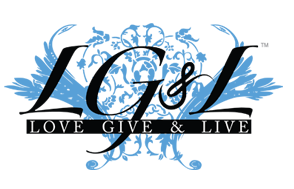 About Love, Give & Live
LG&L stands for Love, Give and Live which means:

Loving your neighbor, the arts, fashion and every little positive thing in life.
Giving back and a desire to change and help improve someone else's life.
Live life to the fullest by pursuing your dreams, traveling the world, helping others and experiencing new cultures, music or the arts.
Through partnering with successful, trusted individuals, businesses and or charities that have the desire to give back, LG&L helps raise awareness and funding for individuals, families or charities.
LG&L is involved in three core ways to better one's life:

Love:  LG&L, its partners and followers show and spread love through events, fashion, music and the arts that focus on giving back or helping others.
Give: LG&L gives back to the community through fundraising, assisting the chronically ill or help someone achieve their dreams.  We also are a direct partner with Santa during Christmas for wish lists!
Live: LG&L lives through fundraisers, concerts, shows to raise awareness and money for an individual or individuals who LG&L is helping. We hope in turn they too will Love, Give and Live.
follow us

affiliated Charities


Our Partners